Connecticut's Newest Food Truck
bringing a passion for food on the road for you to enjoy!
Rich Vallinaggi is a retired locksmith by trade. He owned and operated his locksmith business for over 30 years before retiring in 2019. Rich also had a passion for cooking.  He LOVES to cook. Must be his Italian heritage. He worked at several local restaurants in his live time and most recently worked at the snack shack at New Milford Bowling Center.  Customer service has always been Rich's focus. Rich is driven by his own high expectations of himself when preparing food for others.
One day he came home and said "Honey, I want to get a food trailer". He was like a kid in a candy shop. How could I say no. He did his homework, made the investment in this new venture: Rich's Wings and Things. Now, five months later it is a reality. The food trailer is on its way to Connecticut and will be opening soon.
One can even say that you could find a silver lining even in the most difficult times.  We started this venture before we even knew what CoVID-19 was all about.  Now even in the worst times with this pandemic, we stayed focus on our dreams.   Make my husband's dream a reality by joining us at our GRAND OPENING happening soon (May-June).   
Rich has been a long-time resident of New Milford.  He moved to New Milford when he was 9 years old with his family.  As an adult, he lived around the New Milford area and moved back to his childhood home with his wife Debbie in 2014.  You will see more of me (The Hen: Debbie) because I will be by my husband's side being the Hostess and Rich (The Rooster) will be in the trailer cooking up the most delicious Wings and Things for all of you to enjoy!!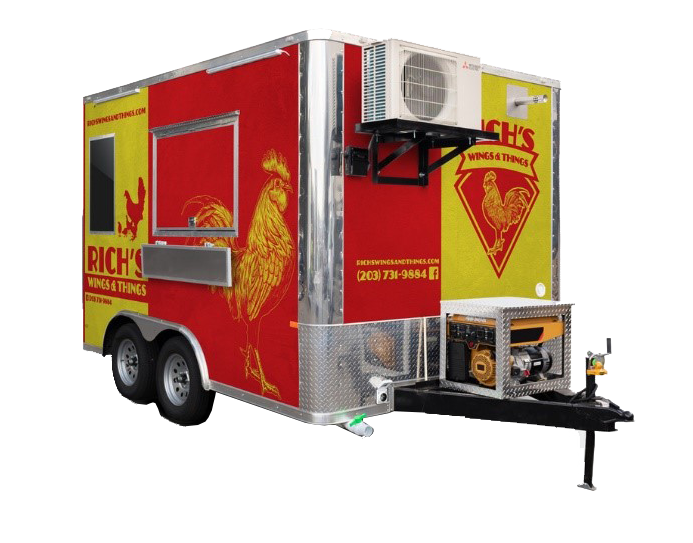 wings, burgers
& more
Rich's menu includes wings, burgers, nachos, chicken tenders and more. Also offering child friendly options.
PREMIUM
MEATS
We are committed to serving premium meat products. Fresh meats make for the tastiest food which is our goal.
Healthy
options
Looking for something fresher? Our menu includes salads, side of cheese, hummus and more.
We Serve With 100% Customer Satisfaction